RBC Building
42-46 Portland St.
Dartmouth, NS
102,800 ft2 of office space
As anyone who's explored Portland street recently knows, the streetscape is a charmingly low-rise urban experience. Most buildings are between two and four storeys tall, lending the street a cozy "living room" feel that urbanists cherish. Of course, the one building that defies this trend is the RBC office building.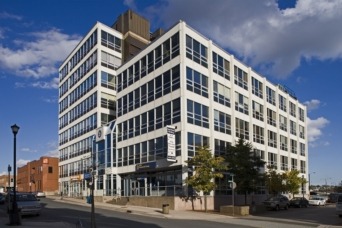 Big plans for one of downtown Dartmouth's biggest buildings.
As the taller sibling on the street, it certainly stands out—and therefore deserves our attention. And we at Sidewalk are happy to give it our attention. We're now in the early stages of planning to convert this building into new class-A office space. Plus—now that the wheels in our heads are turning—we have ideas for how to incorporate this older building into grander redevelopment plans. But details on all of this will have to wait. Suffice it to say, we'd like to give this prominent building the full "Sidewalk" treatment—which means it will get new life, while respecting the community and history around it. Stay tuned!